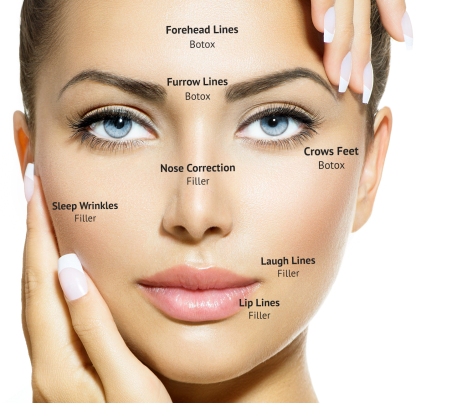 Injectables: From fine lines and wrinkles due to a loss of volume in specific facial areas, injectables can treat common concerns caused by the aging process. We offer a list of dermal fillers as well as BOTOX® Cosmetic and Dysport® to treat concerns expressed by our patients. Dr. Greenberg sits with each patient to determine which is the best option to achieve every patients outcome.
To learn which injectable option is most beneficial for your unique needs, please schedule a consultation at our practice.
BOTOX® Cosmetic
For Moderate to Severe Frown Lines and Crow's Feet.
BOTOX® Cosmetic is a prescription medicine that is injected into muscles and used to temporarily improve the look of both moderate to severe crow's feet lines and frown lines between the eyebrows in adults.
Botulinum toxin, is a natural, purified protein that is used to temporarily relax facial muscles that cause lines and wrinkles. It can also be used to treat medical conditions such as hyperhidrosis (the medical name for excessive sweating).
Botox is the original and best-known brand name and the most tested product on the market. It is the result of many decades of studies and has been used extensively in medicine. It is the safest product, and it is certified in the medical and cosmetic field. Read more at https://www.marieclaire.co.uk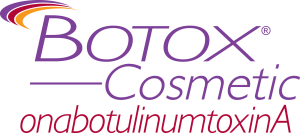 Dysport® is designed to rejuvenate the face by preventing muscles of the treated area from contracting, similar to BOTOX® injections. It has proven to effectively smooth lines and wrinkles in such areas as the forehead and between the eyes.

Facial Fillers
What are fillers and how do they work?
As we age, the natural collagen and elastin in the skin lessens, as cells lose their ability to produce more of their youthful component.
The skin becomes dryer, thinner and less able to fix itself. When we're born, we have plentiful amounts of hyaluronic acid (HA) in our body, but as we get older this store of HA diminishes, leaving the skin less well supported, and so lines and wrinkles develop. By lifting and smoothing targeted folds and wrinkles by adding subtle volume, dermal fillers can make a difference to a person's appearance, giving them a fresher look.
JUVÉDERM® can provide a subtle smoothing effect to signs of facial aging, such as wrinkles and folds, as well as add volume to thin lips. JUVÉDERM VOLUMA™ XC is specifically designed to treat midfacial aging of the cheeks for long-lasting results.

Restylane®
The dermal filler Restylane® can fill wrinkles and creases of the face to help you achieve a younger-looking appearance. The injectable can also increase lip volume for a more desirable contour.